Louisiana Classics Home Builders
201 Mount Hope Avenue, Lafayette, La 70508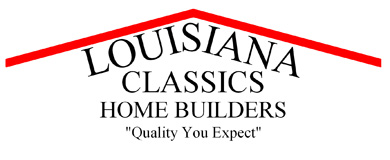 About Louisiana Classics Home Builders
Currently Building in Tuscany Subdvision:
The term "classic" denotes extraordinary quality in something that lasts through time. This can be a baby blue convertible, an intricate composition of music, or in this case, a home built by Louisiana Classics Home Builders.
An individual's expectations of high quality, attention to detail, accuracy and respect from a contractor are always met by Earl Lattier, along with his son, Earl, Jr., owners of this 15-year old building company. Earl stepped into the world of building after a degree in Industrial Technology and years of working in the oil field.
While standing on his back porch looking at a new subdivision development, Earl's wife, Paulette, asked what he intended to do after leaving the oil industry. He stated he was going to build a couple of houses - and he did. "We began with building one spec house and business has really grown from there." Their goal has been to build the quality people expect. "I've always wanted to build. I should have been doing this all my life. I love it." Paulette was an integral part of the business doing the bookkeeping and decorating. "It was just the two of us until our son joined us. Since Paulette passed away, it's now just me and my son."
Earl believes in his chosen field and is driven by the strong desire to take a project from start to finish, working closely with all of the different subcontractors and clients on a daily basis. "My son and I go to each building site sometimes three or four times a day." A priority is to be friends with their customers when they begin and friends when they are finished. Most of the projects are pre-sold custom homes of all sizes priced at $130,000 to $1,000,000. They average six to eight houses at a time totaling fourteen to eighteen a year. "We are very articulate and do quality work, not quantity. This is our emphasis and we base our reputation on it." All of their referrals come from gratified customers. Louisiana Classics' portfolio includes progressively building for repeat clients who start with a first home and then upgrade one or more times. This type of loyalty is not easily attained, but it is indicative of the level of craftsmanship and integrity possessed by this builder. "We pride ourselves on the cleanliness of the job site location. Cleanliness leads to better safety and our customers appreciate the effort."
Because of the increased cost of construction today, Louisiana Classics strives to help their clients keep the cost of building a new home in line with their budget. The prices of materials in this area and the increase of insurance rates have gone up tremendously; therefore, they become an important consideration at the start of a building project. "When we start off we have, to the best of our knowledge, a construction estimate of what the structure will cost and from previous experience, we are able to help the customer stay within their price range. Everybody has a budget and after meeting with them, I know what their budget is." Because there are always choices in building a house, a client can get what they want at a better price on every level.
As owner of The Floor Store, Earl refers clients to the expert interior decorators on staff at the Floor Store who have access to an extensive volume of decorating materials and options. The company's team, which includes a draftsman, works together to serve each client with respect and friendliness. "We build any style of home the customer wants. Whether it is a big or small house, the challenge for us is to please the customer from start to finish. We work with them and make recommendations to fit their needs and budget. If there is something we can do to make it better, then we do it." They purposely stay on top of each job so they don't lose any time, allowing them to plan for the next group of subcontractors to join in and complete their portion of the project. This company is well-respected by their subs, who also work well with the clients. "It took about six years to put this group together and we would put them up against anybody. Successful completion of a customer's dream home is not just the effort of the contractor, it is the effort of each subcontractor in their specialized field."
One remarkable house built by the Lattiers is a plantation home fashioned in the style of a Hayes Town design. "The Nauman's house was full of obstacles because of the style and the way it was built." Located in the Broussard area, the house is built on a dirt pad six feet off the ground. "We did a post tension foundation on top of this six foot compacted elevated pad. The prep work for the foundation was a real challenge." The interior of the home contains old nailed down nine and ten inch wide antique heart pine rough cut wood floors.
Another house featured antique cypress cabinets that came out of the barn of the owner's great grandfather located in the Maurice area. Earl smiled at the thought and said, "They tore down the barn, brought it to our cabinet maker and he straight lined and planed the cypress to make the cabinets."
All of their house plans are "truly customized" for individual homeowners. One residence, for example, is an unusual design due to an extremely open floor plan. "There was no wasted square footage in the house which caused the framing to be a unique challenge." Antique beams were used for the load bearing of the structure. "Customers come to me and tell me what they want, I set up a meeting with the draftsman and from their ideas, we design their desired home." Currently, their most requested designs are Acadian and Southern Traditional styles.
Earl and his son have carved out the niche in the building field founded on the belief that the greatest thing a builder can experience when he leaves a home is a satisfied customer. The ultimate compliment for them is return clients and referrals from past clients. The Lattiers will continue to build homes for as long as they "can think straight and talk." Earl punctuated the thought with, "I never think about retiring because I am having so much fun doing what I am doing."
For more information contact us at [email protected]
Representatives
Earl Lattier and Earl Lattier Jr.